Open kitchen restaurant is a trending restaurant concept for you to visit with your beloved family. This restaurant concept presents a new atmosphere by providing access for customers to be able to see the process of making the food they order. In this concept, you can assure the restaurant's cleanliness and ensure that your food is free from various contaminations.
Another advantage of visiting open kitchen restaurants is that you can see the chef's attractions and skills in the cooking process. This concept also allows the chef to interact with you as a customer directly, creating a warmer atmosphere and making your dining experience more enjoyable.
In Indonesia, there are various restaurants that use the open kitchen concept. PT Sriboga Raturaya has also contributed to implementing this concept in the two restaurants they manage, Marugame Udon and Pizza Hut. This article will provide information regarding 5 open kitchen restaurants from Sriboga that you can visit with your family.
But before that, let's find out a little bit more information about these two restaurants! Keep reading to find out!
Overview of Open Kitchen Restaurant from Sriboga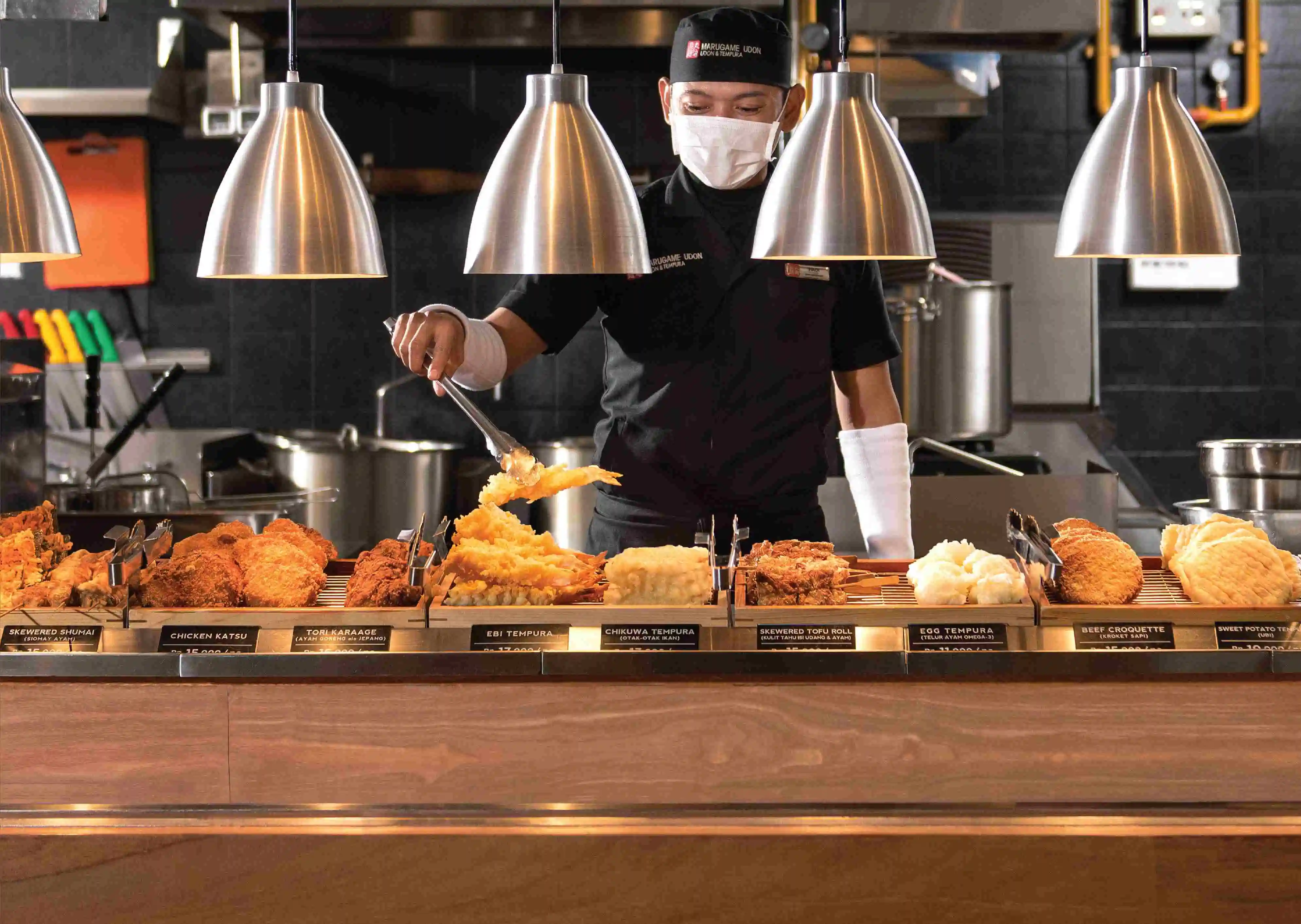 Marugame Udon is one of the most popular open kitchen restaurants. Just recently, Pizza Hut Indonesia has also adapted this concept to its newest stand-alone outlet in Gatot Subroto, Jakarta.
This open kitchen concept is an innovation that is carried out in response to fulfilling the wishes of Indonesian families to be able to enjoy the best dishes in a modern restaurant atmosphere. Self-service and freshly cooked dishes are the main point of these restaurants. Those facilities will be suitable for your family especially if you bring your kids.
It will be an interesting experience for your kids because they will be able to choose and prepare their own food compared to when they just wait for orders to arrive at the table. Besides, these restaurants also provide various menus for kids with adorable sizes, shapes, and presentations.
Apart from that, Marugame Udon and Pizza Hut also offer a set of family menus. These menus have large food portions that can be eaten together with your family, making your dining experience warmer and friendlier.
We recommended multiple open kitchen restaurants from PT. Sriboga Raturaya that you can visit with your family. These 5 open kitchen restaurants made our list for their location and family-friendliness.
Sriboga's Top 5 Family Open Kitchen Restaurants
Marugame Udon - Jatiwaringin, Jakarta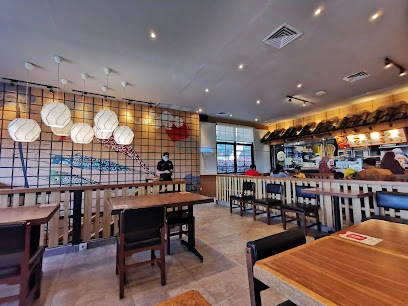 It is no longer a secret for those of you who live in Jakarta that traffic jams appear almost every day. This, in turn, makes many family members end up skipping dinner together. So, the weekend is the ideal time for you to enjoy dinner with your blessed family.
Luckily, we have a lot of open kitchen restaurants by Marugame Udon in Jakarta that gives you more than just a family dinner. You can enjoy udon and many more Japanese dishes with an open kitchen concept. One of the most recommended Marugame Udon restaurants in Jakarta is located on Jl. Raya Jatiwaringin.
Marugame Udon in Jatiwaringin is one of the many standalone venues in Indonesia, which gives you more benefits than Marugame Udon affiliated with shopping malls, such as a wider dining area and a park for your family to enjoy. Since family dinners may involve big groups, the size of the dining area is a critical point to consider when you choose a restaurant for a family dinner.
Marugame Udon - Riau Bandung, Bandung
Another Marugame Udon stand alone venue, located on Jl. Riau Bandung is a great addition to your list of places you can enjoy the family dinner. This restaurant has a comfortable place with an authentic Japanese interior design. You can find decorative lanterns on the roof and Japanese ornaments on the walls of the restaurant. It will be a good spot for your family members who want to take pictures.
As you might have known, Bandung is famous for its tourist attractions and culinary experiences. Locations that are too crowded should be avoided when having dinner with the family to avoid long queues when ordering food. Choosing Marugame Udon which has an open kitchen concept, Riau Bandung is the best choice for your family dinner because the location of this restaurant is easy to find and is also far from crowded locations such as tourist spots.
Marugame Udon - Simpang Harapan, Pekanbaru
Do you live in Pekanbaru? This next open kitchen restaurant recommendation is suitable for your family dinner.
Located on Jl. Jendral Sudirman, South Tengkerang makes it a strategic location to access in the middle of the city. This restaurant's facilities are similar with other Marugame Udon restaurants in Indonesia. You can also enjoy authentic Japanese dishes from family and kids menus.
However, each stand-alone Marugame Udon has a separate smoking area. So, you don't have to worry about cigarette smoke which will interfere with your family while eating the food.
Marugame Udon - Simpang 6 Denpasar, Bali
Bali has many family restaurants with various nuances. However, if you want to take your family to experience Japanese food, then the best choice restaurant that your family can visit is the stand alone Marugame Udon, which is located at Simpang 6 Denpasar, Bali. This open kitchen restaurant is easy to find because it is strategically located near the main road.
The availability of Marugame Udon in various regions of Indonesia, including Bali, demonstrates that this restaurant is well-liked by Indonesian people. So even though this is a Japanese restaurant, the taste of the food is suitable for Indonesian tastes. However, the yummy taste of your dinner food will also bring happiness to your family.
Pizza Hut - Gatot Subroto, Jakarta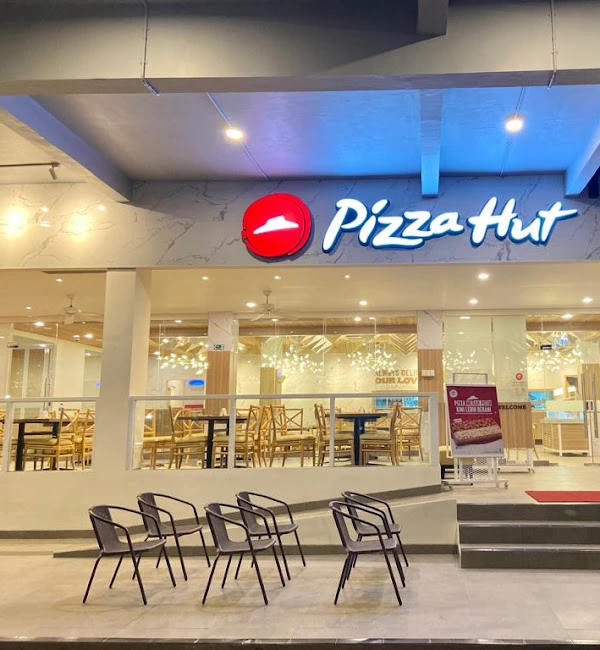 Last but not least, the newest open kitchen restaurant by Pizza Hut Indonesia is definitely recommended for your family dinner.
If your family doesn't want to eat Japanese food, Pizza Hut might be another option. Located on Jalan Gatot Subroto, this restaurant carries the concept of "Pizza and More". The word "More" is used to represent 20 new menus, including pasta, steak, appetizer, and dessert.
The only Pizza hut restaurant that has an open kitchen concept and new menu options available adds to the attraction for your family to visit. Regarding the taste of the menu of Pizza Hut, there is no doubt about its delicacy, your family will definitely like it. Enjoy each slice of your pizza with the warmth of family togetherness.
Those are all of 5 open kitchen restaurants from PT. Sriboga Raturaya. However, Marugame Udon and Pizza Hut serve food with very different tastes and restaurant styles. Discuss with your family and decide where you would like to visit.
Apart from the 5 outlets above, there are still many Marugame Udon and Pizza Hut outlets that you can visit near your location. You can check the location on the official website Marugame Udon and Pizza Hut. Also, don't forget to keep your open to our news updates by visiting Sriboga's News & Insights here.
***