Marugame Udon is a Japanese udon fast-food chain and international franchise. They have over 1.000 franchise outlets scattered in many countries, including Indonesia. In Indonesia, this brand is managed by PT Sriboga Marugame Indonesia which operates more than 70 outlets.
Originating in Japan, the brand was started in 2000, operated by TORIDOLL Holdings Corporate. First, they started expanding slowly by opening several restaurants all over Japan. Then, in 2010 they started opening restaurants overseas and grew into an international franchise. Going forward, they will continue their journey globally and provide the best authentic Japanese food: udon.
But, what exactly is udon? Keep reading the article to learn more about it.
What is Udon?
Udon (うどん) are thick Japanese noodles made from wheat flour. They are thicker than buckwheat noodles, have a whiter color and a chewy taste, and can be flat or round in shape. Udon noodles are typically served in a hot broth, but they can also be served cold with dipping sauce.
While the origin of udon is still unclear, some believed that it likely originated in China and were introduced to Japan during the Tang dynasty (618–907 CE). The original udon may have been closer to a dumpling than a noodle. In some parts of Japan, udon is still cut into flattened squares rather than the long strands that we know today. Traditionally made at home, Japanese people have been using udon as a substitute for white rice for centuries.
That's why udon holds an important part in Japanese culture and becomes known as Japanese noodles when sold overseas, including in Indonesia.
Brief History About Marugame Seimen and Marugame Udon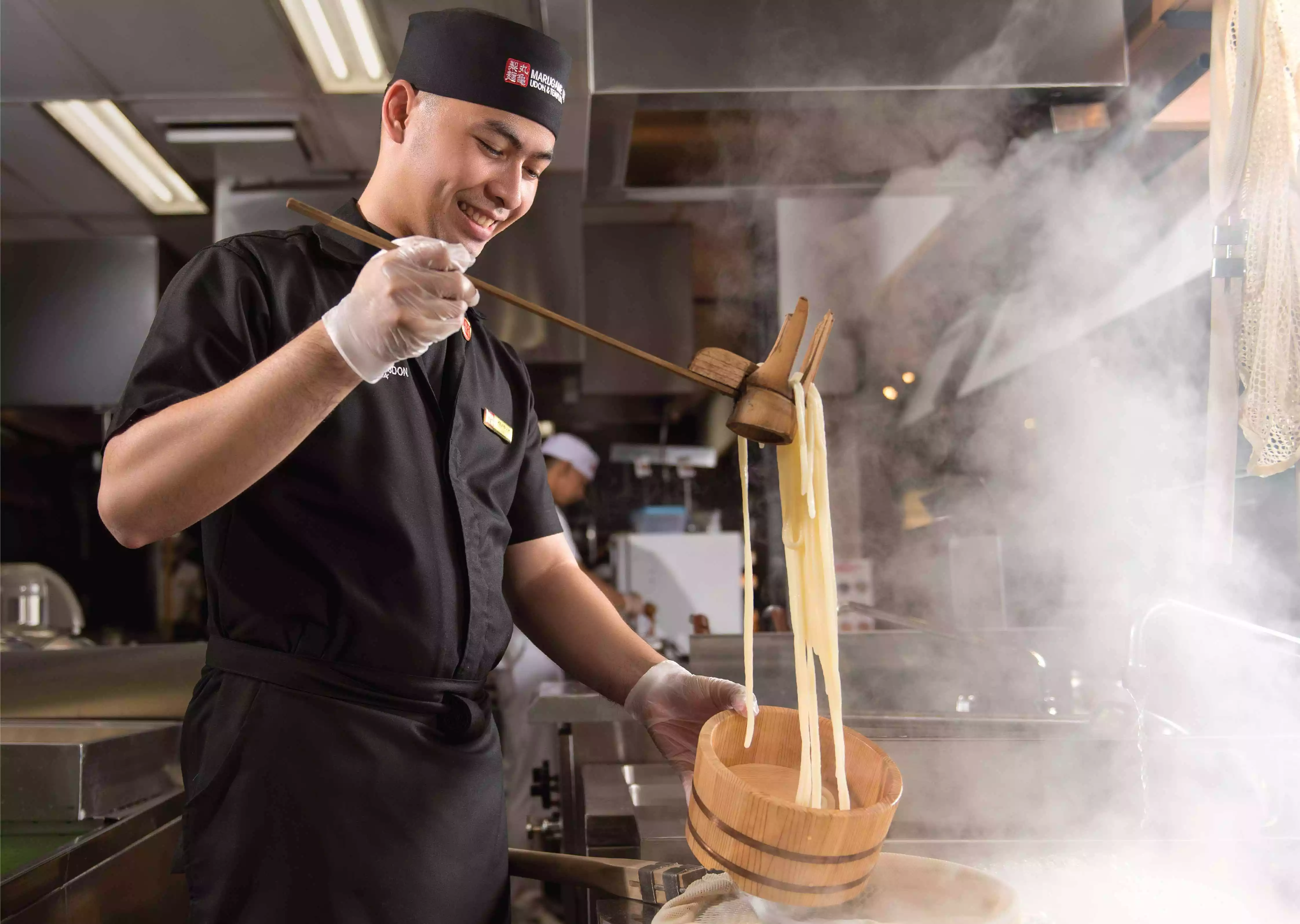 Marugame Udon is a Japanese fast-food chain specializing in udon. In Japan, they are more commonly known as Marugame Seimen, established under TORIDOLL Holdings Corporation. Marugame Seimen history started in 2000, when they opened the first restaurant in Kakogawa city, Hyogo Prefecture.
After opening their first restaurant, they started expanding all across Japan. By May 2011, with the opening of the Okinawa branch, they became the first udon restaurant chain to have at least one restaurant in all 47 prefectures of Japan.
Outside Japan, Marugame Seimen has been expanding to other countries. In 2010, TORIDOLL Holdings Corporation opened its first overseas Marugame Seimen, which is located in Hawaii, under the name of MARUKAME UDON Waikiki Shop. The rest is history, as the company successfully established over 1,100 restaurants all over the world, including the United States, South Korea, China, Russia, and Indonesia.
In the Southeast Asia region, PT Sriboga Marugame Indonesia becomes the sole franchisee of Marugame Udon. The company opened the first restaurant in one of Jakarta's most popular shopping malls, Mall Taman Anggrek, in 2013. PT Sriboga Marugame Indonesia then carried out a rapid expansion in many cities throughout Indonesia, making Marugame Udon Indonesia the largest udon restaurant chain in the country.
Nurtured by trust and commitment, PT Sriboga Marugame Indonesia maintains the authenticity of Marugame Udon dishes. All recipes used in Indonesia are original recipes from Japanese Marugame. They use only natural and quality ingredients, processed with special techniques from Japan and controlled with strict quality assurance standards.
To further enhance the authentic udon dining experience, PT Sriboga Marugame Indonesia also adopts the open kitchen concept that is used in every outlet around the world. The open kitchen concept is applied in all Indonesian outlets, so that customers can watch the whole cooking process straight from the kitchen. This concept became a hit because not many restaurants have used this concept. Today, the open kitchen has become one of Marugame Udon Indonesia signatures.
What to Eat at Marugame Udon
Marugame Udon Indonesia offers a wide selection of authentic udon menus. Not only udon, this restaurant also has a menu of other Japanese specialties that are no less appetizing. Despite offering a wide variety of menu selection, all dishes are prepared and processed in the same way so that they have outstanding quality.
If you are new to Marugame Udon, here are some recommended menus to help you pick your choice:
1. Kamaage Udon: Kamaage Udon, like its name, Kama (釜) = Pan, is a type of udon that is eaten straight from the pan. To enjoy Kamaage Udon, you can dip the noodles in a bowl of warm dashi tsuyu mixed with grated ginger, fried sesame, and thinly sliced scallions.
2. Niku Udon: Niku Udon is one of the brand's signature dishes. This udon is served with kakedashi soup made of katsuobushi (thinly sliced cured skipjack tuna), kombu (algae/seaweed), and shoyu. Topped imported beef sukiyaki, this sweet and savory udon will make anyone addicted.
3. Kake Udon: Kake Udon is udon in its simplest form. Regardless, it tastes very delicious. Kake udon consists of boiled udon noodles served with hot kakedashi soup. It goes well accompanied with tempura or onigiri, which you can add as a topping.
4. Zaru Udon: Zaru Udon is a bowl of udon noodles served with hot or cold bukkake dashi soup. At Marugame Udon Indonesia, you can enjoy 3 types of Zaru Udon with different topping choices, namely Niku Zaru Udon, Nikutama Zaru Udon, and Ontama Zaru Udon.
5. Marugame Tempuras: Apart from being well-known for its udon, the brand also offers a wide range of crunchy tempuras. All tempuras are made with high-quality Sriboga Easymix Japanese Tempura flour that is specially made to produce the crunchiest tempura.
Where to Find Marugame Udon in Indonesia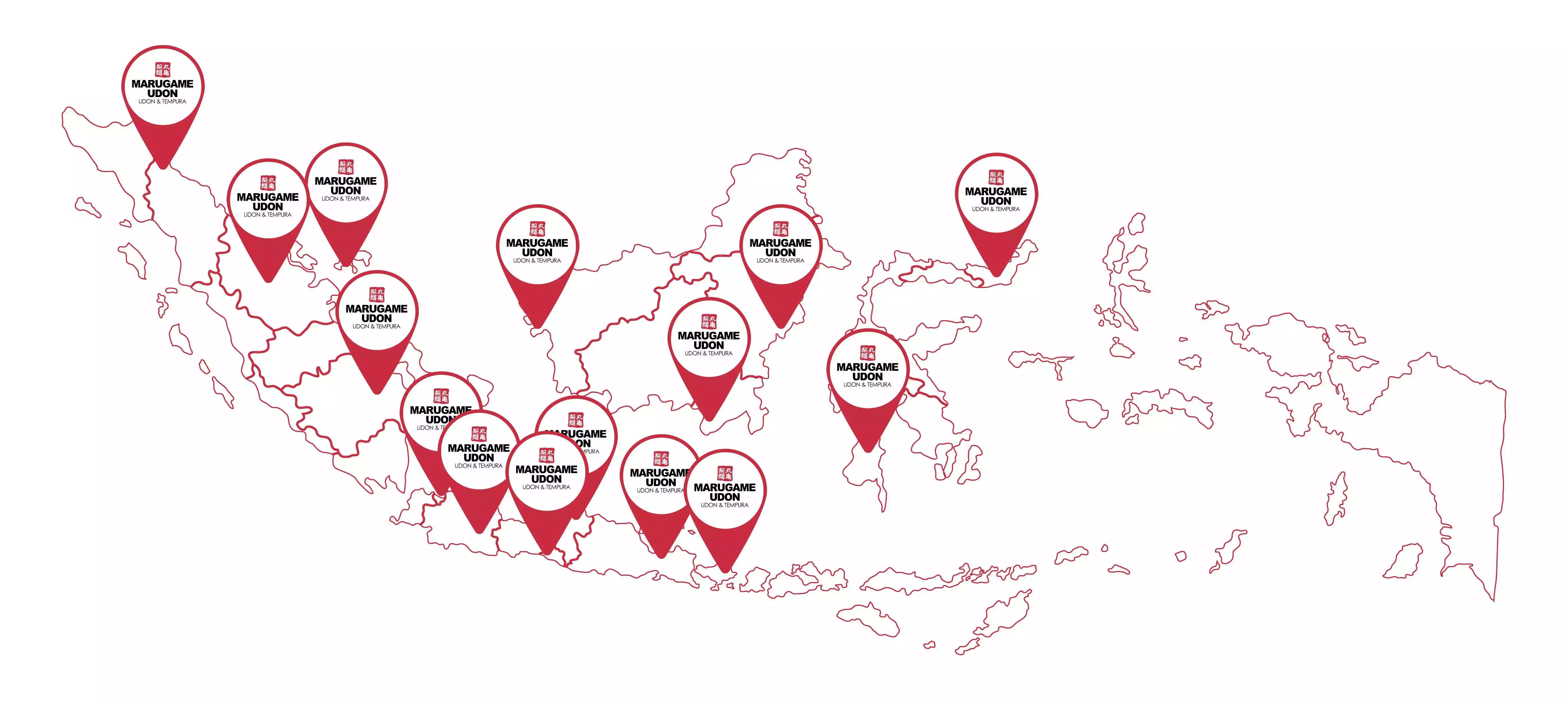 The opening of the first Indonesian outlet received numerous positive responses from the locals. With each outlet serving an average of 1,000 customers, this marks the second highest volume launch for Marugame Udon in the world.
This fact encourages PT Sriboga Marugame to expand to more regions in Indonesia so that more Indonesians can experience the authentic taste of Japanese udon. Until now, there are 78 outlets that you can visit in various cities, including:
Generally, you can find Marugame Udon restaurants in shopping centers such as Grand Indonesia, Paris Van Java, and Royal Plaza Surabaya. However, if you don't want to visit shopping centers, you can visit stand-alone outlets in Jatiwaringin, Margonda Raya, and Jl. Riau Bandung.
Marugame Udon's journey together with PT Sriboga Marugame Indonesia will continue. More outlets will be opened and more consumers will be served with authentic taste of Japanese udon. To learn more about PT Sriboga Marugame Indonesia and other subsidiaries of PT Sriboga Raturaya, read our other articles at www.sriboga.com/insights.
***