Sriboga Easymix is a premix flour dedicated to prepare a specific type of product. As the name stands, it provides convenience and fuss-free cooking since it simplifies the whole cooking process. With it, you can make either Kentucky fried chicken, Japanese tempura, or the flavourful golden brown fried banana or pisang goreng.
Sriboga Easymix was officially launched in December 2015 as an all-purpose flour with no MSG added. Using innovative technology and premium wheat seed, it allows you to maintain the freshness of whatever it is that you are deciding to cook.
Types of Sriboga Easymix, The Top-Selling Product from PT Mulia Inti Pangan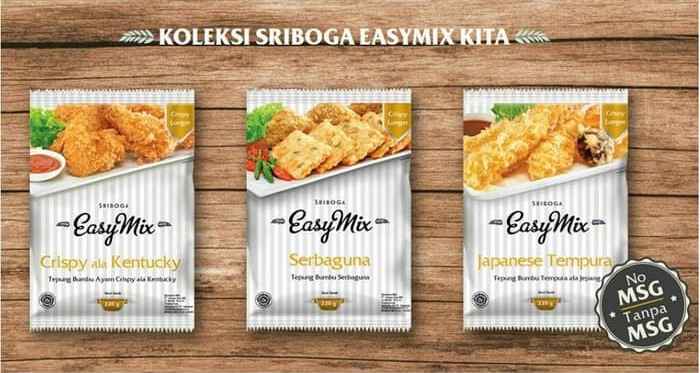 Behind all these good things, there is one name that helps the brand successfully capture its customers: PT Mulia Inti Pangan. The flour producer was established back then in 2019, had previously been a division under PT Sriboga Flour Mill. Since then, the company has developed a wide range of flours, including Sriboga Easymix as one of its best.
To personalize customer's needs, PT Mulia Inti Pangan divides Sriboga Easymix into two main categories: Consumer and Professional. For the Consumer side, the premix flour provides delicious cuisine with quality ingredients starting from the home kitchen. Meanwhile, the Professional category delivers the best culinary experience from businesses to their customers. Here are the explanations:
1. Savoury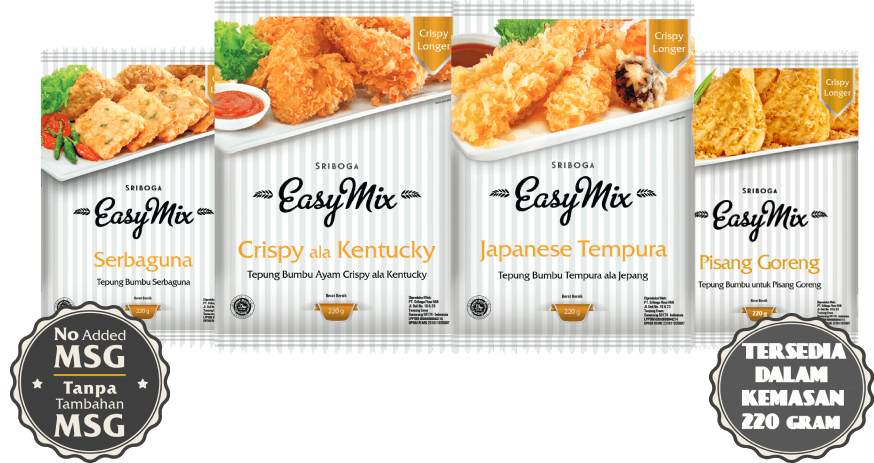 1. Sriboga Easymix Crispy Ala Kentucky

Using European technology and premium ingredients, products stay crispy for a long time. A 100% mix for the production of delicious Kentucky-style fried chicken with a golden brown, crispy texture. You don't need excessive ingredients since the flour already has it.
2. Sriboga Easymix Serbaguna (Multipurpose)

A 100% mix for the production of crispy fried savoury foods with an authentic Indonesian taste and texture. A high quality premix that promises consistent and reliable results every time, the premix also provides you with quick preparation time and high frying tolerance.
3. Sriboga Easymix Japanese Tempura

Produces authentic Japanese style tempura, which is light and crispy with perfect coverage and pale golden. You can make a perfect Japanese tempura by using this tempura premix.
4. Sriboga Easymix Pisang Goreng

Produces flavourful and crispy, golden brown fried bananas (pisang goreng). With a quick preparation time, you can get the authentic pisang goreng flavour.
5. Fish n' Chip Batter

It is perfect for English-style batter-fried fish since the flour helps your dishes stay crispy for an extended time.
2. Sweet

Sriboga Easymix's Professional category contains a wide range of flours, including the four flours in the Consumer category. The others are:
1. Sriboga Easymix Vanilla Sponge

A versatile premix and cake flour that combines premium ingredients and the latest European technology to produce consistently high-quality cakes. It produces consistent results with a moist and soft texture.
2. Sriboga Easymix Pancake

The perfect weekend food is on the horizon, and this premix helps you to be more creative with the recipe. An easy and affordable flour suitable for your cake business.
3. Sriboga Easymix Waffle

An exceptionally crafted sweet premix, the waffle premix eases any chefs in cooking the lovely waffles. Suitable for those who are highly interested in the waffle business.
4. Sriboga Easymix Donut

A sweet snack that can be homemade, the donut premix certainly supports your doughnut crafting, making business thrive as never before.
Benefits of Sriboga Easymix
Wondering what are the benefits of Sriboga Easymix for your cooking? There are actually an enormous amount of benefits from it. Here are they:


1. Increase quality and production consistency

Sriboga Easymix offers greater consistency, resulting in a more consistent product from any perspective such as flavor, aesthetics, and functionality. Subsequently, it also helps increase the overall quality of the final product.
2. Promote a healthier lifestyle with no-MSG savoury premix

Since there is no MSG added to the 220 gram Savoury edition, it promotes good health for you and your family which ultimately helps reduce the risk of disease. So, do not be worried anymore with your fried chicken, tempura, or even pisang goreng—they are healthier than ever with this Savoury edition from Sriboga Easymix.

3. Provide ultra-convenience

While most people believe that the bakers craft their products from scratch, it does not actually seem like that. They use premix as one of their core ingredients. Besides, you do not need to mix all the ingredients from scratch since it already provides most of their needs without having to put in a lot of effort and skill.
4. Reduce production costs

Sriboga Easymix has combined most of the ingredients into a single premix. It certainly reduces costs since bakers do not need to buy each ingredient. As a result, they can distribute their spending to other needs, or even save them for later use.
5. Enable to be more creative

No more monotonous baking—this premix flour lets you be more creative in preparing and mixing the ingredients. Standards are good, but when creativity runs in your cooking, anything magical can happen.
6. Increase production speed

Sriboga Easymix has the same meaning of completing the work in a second. No need to arrange and put everything together because you already cut the process by using premix.
With all of these benefits, avid cooks and businesses can thrive more in the industry. The flour itself also has different types and characteristics for different recipes, helping you to specialize in what you do while maintaining the highest quality of the products. Should you have any inquiries regarding the use of Sriboga Easymix in your business, kindly contact us at marketing.support@muliaintipangan.co.id and let us know your needs.
***