Pizza Hut is an American multinational restaurant chain and international franchise. They already have franchise outlets in over 100 countries, including Indonesia. In Indonesia, this brand is managed by PT Sarimelati Kencana Tbk which operates more than 500 outlets.
Originating from a small town called Wichita, in Kansas, United States, Pizza Hut is a family business started by brothers Dan and Frank Carney in 1958. Concepted as a simple pizza restaurant, Pizza Hut introduced pan pizza as this Italian-American restaurant's menu. In just one year, Pizza Hut was able to open six outlets, demonstrating the high demand for delicious menu options.
Following that growth, Pizza Hut grew into a franchise and opened hundreds of branches in America until the 1960s. Its development did not stop there. Pizza Hut then grew into the largest pizza company with more than 18.000 restaurants across the globe. Going forward, they will continue their journey to provide you with the best Italian-American Pizza.
Starting A Delightful Journey in Indonesia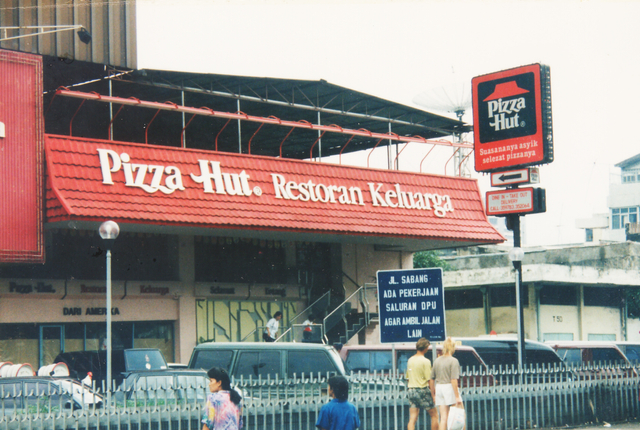 Coming from America, Pizza Hut introduced American Pizza to Indonesian consumers. Their history began in 1984, when the first Pizza Hut outlet in Indonesia opened in the Djakarta Theater building. Then in 1987, PT Sarimelati Kencana Tbk started to manage the Pizza Hut brand in Indonesia based on a franchise partnership with Yum! Asia Franchise. Under PT Sarimelati Kencana Tbk, Pizza Hut franchise in Indonesia continues to grow, from expanding outlets to developing pizza and pasta menus to suit local tastes.
Operating in a country with more than 231 million Muslim population, it is important for a global restaurant franchise to have Halal Certification. 1997 is another important year of Pizza Hut history in Indonesia. In that year, Pizza Hut received the Halal Certification from the Indonesian Ulema Council (Indonesian: Majelis Ulama Indonesia, MUI). Worry not, the Halal Certification does not take away the authentic taste of the dishes.
The history of Pizza Hut Indonesia continued until in 2004, PT Sriboga Raturaya acquired PT Sarimelati Kencana Tbk. Ever since, Pizza Hut has become a part of the Sriboga Group. The presence of PT Sriboga Raturaya accelerates the development of the Pizza Hut franchise in Indonesia. This was proven when a year later, Pizza Hut outlets grew rapidly to 100 outlets throughout Indonesia in 2005.
In 2007, together with PT Sriboga Raturaya, PT Sarimelati Kencana Tbk decided to expand into delivery service and introduced Pizza Hut Delivery (PHD). With a "30 minutes delivery" service, PHD focuses on delivery services with similar menus to Pizza Hut Restaurant (PHR).
Every year, PT Sarimelati Kencana Tbk strives to increase the number of outlets so that Pizza Hut can reach more consumers in Indonesia. In 2018, After operating 400 outlets, the Company successfully conducted an Initial Public Offering on the Indonesia Stock Exchange (IDX) with ticker code PZZA.
Innovating For Better Consumer Experience
Pizza Hut in Indonesia is progressing rapidly because they always innovate to provide the best services and customer experiences. They offer a variety of services, dine-in service, delivery service, and online sales with an extensive network. It is because PT Sarimelati Kencana Tbk believes that its current sales concept and channels will provide flexibility for sustainable growth.
In addition to offering a wide selection of the best services, Pizza Hut never forgets to bring innovation as an important part in carrying out business activities—a tireless effort from PT Sarimelati Kencana Tbk to provide the best experience for its consumers.
From the innovation aspect, PT Sarimelati Kencana Tbk always conducts innovative explorations to present a varied menu without changing the original taste of Pizza Hut. Pan Pizza's original recipe is developed with the addition of toppings and a variety of crust such as Cheesy Bites. The exploration does not stop there. In August 2020, Pizza Hut franchise in Indonesia also adopted local wisdom by presenting Beef Rendang Pizza to commemorate Indonesian Independence Day.
During the Covid-19 pandemic, the restaurant industry in Indonesia was hit quite badly by large-scale social restrictions (Indonesian: Pembatasan Sosial Berskala Besar, PSBB). Many restaurants in malls were forced to close because shopping centers were prohibited from operating. Thus, PT Sarimelati Kencana Tbk launched Pizza Hut Food Truck, an innovative strategy to overcome this challenge.
Pizza Hut food trucks operate for the first time in Bandung with strict health protocols so that service and product quality remain within food safety standards. In fact, the idea is proven to be another testament to Pizza Hut's great innovation strategy. The food trucks were successful in providing easy access for customers to reach Pizza Hut's favorite menus while not being able to dine in the restaurants.
Achieving Dreams With PT Sarimelati Kencana Tbk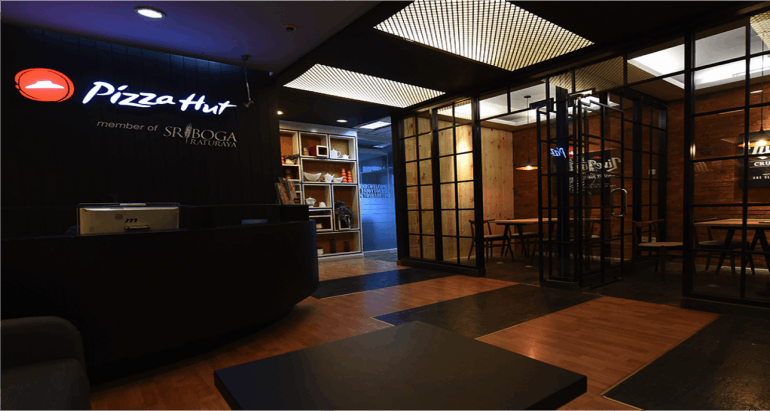 Together with PT Sarimelati Kencana Tbk, Pizza Hut has achieved many things. With this franchise agreement, PT Sarimelati Kencana Tbk was awarded the 'Asia Franchisee of The Year' in a row from 2007 to 2009, 2011 to 2013, and 2017. Not only that, the Company also awarded the '2017 Partner of the Year' award at the Orlando International Franchise Conventions.
In operating Pizza Hut franchises in Indonesia, PT Sarimelati Kencana Tbk is supported by the Sriboga Group with various kinds of support and guidance from PT Sriboga Raturaya and other Sriboga subsidiaries. As a result, based on the Euromonitor's Report, in 2016 the Company was successfully named as the largest "pizza chain" in Indonesia with 86.6% market share, with PHR respectively having a 97.0% market share and PHD having a 64.6% market share.
Apart from awards and market share, the rapid development of Pizza Hut also counts as an achievement, especially after the Sriboga Group acquired it in 2004. Since then, the expansion of outlets has been consistently carried out. To this day, there are 580 outlets managed by PT Sarimelati Kencana Tbk that spread across Indonesia.
***